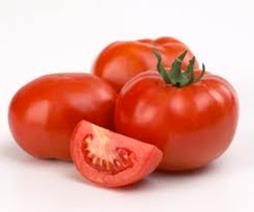 I have been asked a lot of questions on what makes one tomato sweeter than another of the same kind.  This can be a long answer but the basic reason is the amount of water your plant gets. This is especially true two days before you harvest. The less water the sweeter the tomatoes will be due to the sugar content, which increases. Be careful not to under water the tomatoes, they due like their water. I drip water mine heavily; two hours ever other day and stop two days short of a large harvest.  Tomatoes like 2" of rain per week so keep a rain gauge in your garden and make up for Mother Nature by just watering the difference.
Watering Info. Check your irrigation flow rate then due your own calculations. Keeping in mind plants tend to be 75-90% water and the balance of watering is sometimes much more critical than fertilizers.
It is best to add enough water to soak the soil to a depth of 5 to 6 inches. This requires approximately 2/3 gallon of water for each square foot or 65 to 130 gallons for 100 square feet of garden area. This varies with soil type. Frequent, light irrigations will encourage shallow rooting which will cause plants to suffer more quickly during drought periods, especially if you do not use mulches. On the other hand, too much water, especially in poorly drained soils, can be as damaging to plant growth as too little water.